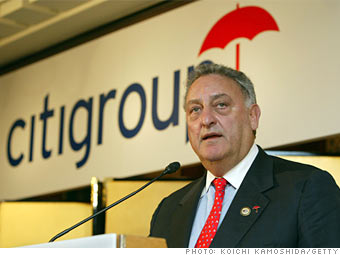 Sandy Weill is having a change of heart.
Mr. Weill, the aggressive dealmaker who built Citigroup on the idea that in banking, bigger is better, said Wednesday that he believes big banks should be broken up.
Speaking on CNBC's "Squawk Box," the 79-year-old Mr. Weill appeared to shock the show's anchors when he said that consumer banking units should be split from riskier investment banking units. That would mean dismembering Citigroup as well as other big U.S. banks, like JPMorgan Chase and Bank of America.
It's an idea that's traditionally more in line with the banking industry's harshest critics, not its founding fathers. It's an ironic twist coming from an empire-builder who nursed Citigroup into a behemoth. And it's directly opposed to the stance of the industry's current leaders, like JPMorgan CEO Jamie Dimon, who have been trying to convince regulators and lawmakers of just the opposite, that big banks do not need to be split.
Read the full story at Crain's.
Want a daily digest of articles like this one, plus the latest Wall Street jobs at top-tier organizations? Join 25,000 other Wall Street professionals and subscribe to our free afternoon newsletter. You may also be interested in our Wall Street Job Board, offering hundreds of new jobs at world-class financial institutions. . Where do you find news, style, and career all in one place? The Executive Gateway, our new lifestyle magazine.