SEC Fraud Lawsuit Against Morgan Keegan Revived [On Wall Street] A federal appeals court on Wednesday revived a U.S. Securities and Exchange Commission lawsuit accusing Morgan Keegan & Co of fraudulently misleading investors about the safety of auction-rate securities it sold. The 11th U.S. Circuit Court of Appeals in Montgomery, Alabama, said a federal district judge in Atlanta erred in finding that the alleged misrepresentations made by Morgan Keegan brokers about the debt were not material. It sent the case back to the district court for more proceedings. Morgan Keegan is a unit of Raymond James Financial Inc (RJF.N), which on April 2 bought the brokerage from Regions Financial Corp (RF.N) for $1.2 billion.
ETF Controversy Puts Online Brokers In Odd Spot [Reuters] The recent controversy over leveraged and inverse exchange-traded products has put self-directed brokerage firms, like Charles Schwab Corp, Fidelity Investments and TD Ameritrade in a awkward position. On one hand, their business proposition rests on providing products for do-it-yourself investors. But with increasing scrutiny over complex products like exchange-traded notes and leveraged and inverse exchange-traded funds (ETFs), these firms run the risk of being sued if they don't go out of their way to make sure customers know what they are buying. "All of the major discount brokerages are trying to figure this out," said Scott Burns, director of ETF research at Morningstar Inc. "The challenge is (that) they want to be the facilitator for all of investors' trades, but they are trying to figure out what their responsibilities are."
Borrowing From Customer Costs Stockbroker His Career [Forbes] In a Financial Industry Regulatory Authority ("FINRA") Complaintdated November 11, 2011, the self-regulatory organization alleged that between in September 2006, Edward D. Jones & Co., L.P. registered representative Edward Allen Mantanona ("Mantanona") solicited and received from one of his customers a $30,000 loan, which he fully repaid with 8% interest by the end of December 2006.  Allegedly, Mantanona sought and received a second $60,000 loan from the same customer at a 9% interest rate in February 2008, which was subsequently memorialized on February 13, 2008, in the form of an executed promissory note due by December 31, 2008. Mantanona allegedly failed to repay the second loan.
Feds Sue Utah Hedge Fund Owner [The Salt Lake Tribune] Federal regulators are suing a Utah hedge fund owner over allegations he artificially inflated assets and charged excessive fees. Russell K. Cannon, 38, of North Salt Lake, is one of three Utahns who have been named in recent actions by the Securities and Exchange Commission. The SEC sued Cannon over allegations he fraudulently inflated a stock held by his RKC Matador Funds through trades in the last minutes of the final day of the month and by dictating the price the stock was listed at on Matador's financial reports to clients.
Former FINRA, SEC Official Joins Morrison & Foerster [National Journal] Daniel Nathan has joined Morrison & Foerster as a partner. He is the former vice president and regional enforcement director at the Financial Industry Regulatory Authority and previously worked at the Securities and Exchange Commission and at the Commodity Futures Trading Commission.
RBC Capital To Repay $2.9M To ETF Investors In Massachusetts [Calgary Herald] Royal Bank of Canada's brokerage unit agreed to repay investors in Massachusetts up to $2.9 million to cover losses on leveraged and inverse leveraged exchange-traded funds, the latest phase of a nationwide regulatory crackdown on the sometimes volatile products. The bank's RBC Capital Markets division was also fined $250,000 by Massachusetts's top securities regulator, William Galvin, for selling the "highly volatile, non-traditional" funds that did not fit with some clients' investment objectives, Galvin said in a statement on Wednesday.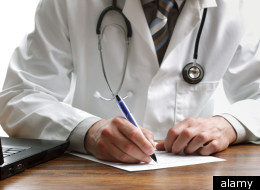 Medicare Fraud Crackdown: 100 Doctors, Nurses, Social Workers Charged In Historic Bust [HuffPost] Federal authorities charged 107 doctors, nurses and social workers in seven cities with Medicare fraud Wednesday in a nationwide crackdown on unrelated scams that allegedly billed the taxpayer-funded program of $452 million – the highest dollar amount in a single Medicare bust in U.S. history. It was the latest in a string of major arrests in the past two years as authorities have targeted fraud that's believed to cost the government between $60 billion and $90 billion each year. Stopping Medicare's budget from hemorrhaging that money will be key to paying for President Barack Obama's health care overhaul.