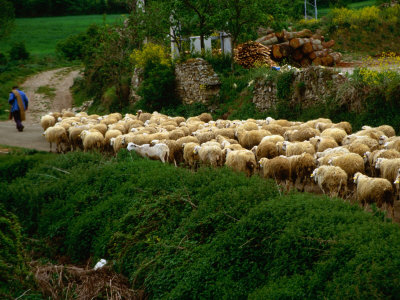 Today's Ponzi Scheme Award? The Good Guy Gone Bad Award.
Anthony Morris was the 48-year-old pastor of the Tuwilka, WA-based New Covenant Christian Center. He also dabbled in investing, and got parishioners and other local citizens to make investments in his overseas trading company.  He told them that the money they put in would either go to those overseas investments or to make improvements to the church, and claimed that investors would be paid back upwards of 400 percent in interest. But guess what?  As Bill Singer of Forbes.com put it, the "Man of The Cloth's Investment Program" was really "Made From Whole Cloth."
Sure, some of the money went to keep the church afloat.  But a good chunk of the money went to keep Morris himself afloat, as well as his family (he bought a$22,000 Dodge Nitro for his daugher), and to keep the Ponzi scheme running. Shocking, we know. (At what point do people start thinking that if your minister is trying to get you involved with investment schemes, it's time to hit the road?) In all, as the Seattle Times put it, Morris "bilked 24 people out of $1.8 million."
Now, after pleading guilty to federal charges of wire fraud and money laundering, he has been sentenced to 40 months in the pokey, Forbes reports. Morris could have faced up to 10 years on the money laundering conviction, and up to 20 years on the wire fraud count. After he gets out of prison, he will have to go through three years of supervised release. In addition, he will need to pay $1,843,932 in restitution to his victims.
Prosecutors had requested that he get a four-year sentence, saying that Morris "preyed on those least likely to suspect him, demand collateral, and seek other assurances present in arms-length business transactions."
Morris allegedly ran the scheme from 2003 to 2011, promising those super-high rates of returns. Some of the early investors did get some money of their back from later investors, but for all too many of them, they were left with empty pockets.
One of the saddest things about this case, aside from the victims ripped off of their hard-earned money, is that Morris didn't set out to be a scam artist. A 1999 Seattle Times profile of the man written by Carol Ostrom shows him to be genuinely sincere and dedicated to helping fellow African-American men, as well as the women in the community.
Morris talked about his parishioners' potential. "I am not building just for my generation," Morris said back then. "The Bible says I have a specific responsibility to my children and my children's children." He also talked to the paper about being a role model.
He told the youth in his church that actions have consequences. "You're planting seeds in other people's lives, and one day you'll reap a harvest for that, and it may not be the harvest that you want," he said. Haunting words for him, to be sure, as he heads towards federal prison.
Lisa Swan is a Feature Writer for the Compliance Exchange and Wall Street Job Report. She is also a columnist for The Faster Times and a blogger for Subway Squawkers. Her work has also appeared in the New York Daily News, Yahoo Sports, Huffington Post and the books Graphical Player 2011 and Graphical Player 2010.