by Kyle Colona on June 22, 2012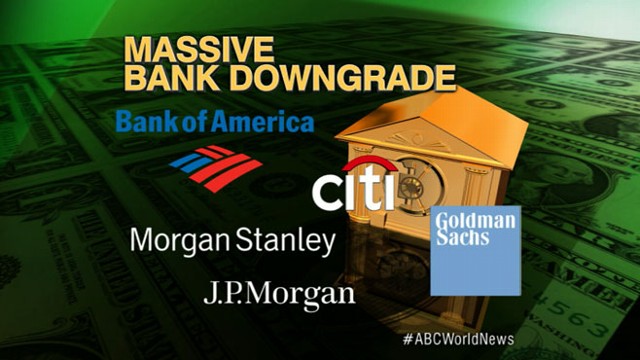 Contrary to rumors being spread by Chicken Little, the sky is not falling, but Moody's did downgrade 15 big banks after the trading day ended yesterday.
The move comes as the banks are faced with continued pressure in the global capital markets. However, The Street was already factoring Moody's blue move into its pricing and this may have helped to trigger losses in the Dow yesterday of 250 points.
According to a Reuters report on the downgrade, the credit ratings ranged from one to three notches across the board. Morgan Stanley's long term debt was cut by 2 notches while Credit Suisse had its ratings reduced by three. That is partly the result of the Swiss central bank warning about the big banks "weak" capital levels.
Of course one has to wonder how a big bank is being warned about weak capital levels in the face of Basel III requirements that are on the way. By this time banks should be using there "best efforts" or at least adhering to "good faith" to meet these requirements.
"All of the banks affected by today's actions have significant exposure to the volatility and risk of outsized losses inherent to capital markets activities," Moody's Greg Bauer said in the announcement.
Reuters notes that the financial markets have been anticipating the downgrades since February. At that time the investor service said it was reviewing 17 banks with global reach. That review was sparked over concerns about operating conditions, increased regulations and the ongoing sovereign debt crisis plaguing the EU.
But the effect of the long-term debt ratings cuts could be increased funding costs for the banks and this could force trading partners to ask for more capital.
Other banks downgraded by two notches included Barclays, BNP Paribas, Royal Bank of Canada, Citigroup, Goldman Sachs Group, JPMorgan Chase, Credit Agricole, and Deutsche Bank. Moreover, HSBC's rating was cut by one notch along with Bank of America, RBS, and SocGen.
But the medicine was not taken with a spoonful of sugar by some of these firms.
In fact, Reuters notes that Citigroup "went beyond defending itself to blasting Moody's for its treatment of U.S. banks in general." The big bank also cheered institutional investors and the Congress for its recent efforts to subject all the raters to greater regulatory scrutiny.
"We have been especially surprised by Moody's disproportionately adverse treatment of U.S. firms relative to banks in Europe," Citigroup said in a statement.
Want a daily digest of articles like this one, plus the latest compliance jobs at top-tier organizations? Join 40,000 other compliance, risk governance, and regulatory professionals and subscribe to our free afternoon newsletter.
Kyle Colona is a New York-based freelance writer and a Feature Writer for CompliancEX> and the Wall Street Job Report. He has an extensive background in legal and regulatory affairs in the financial services sector and his work has appeared in a variety of print and on-line publications. You can find him on linkedin.