by Kyle Colona on September 5, 2012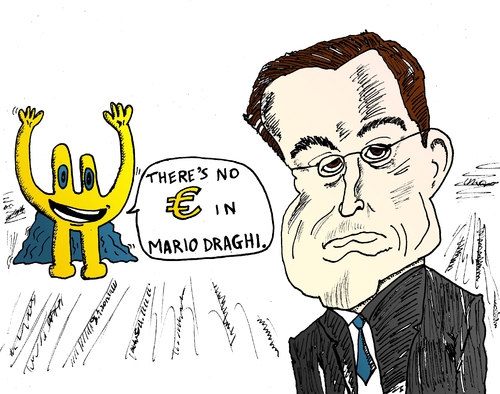 Mario Draghi, president of the European Central Bank, appears to be mimicking the head of the US central bank with his plans to buy euro bonds.
Mr. Draghi missed Fed head chairman Ben Bernanke's annual powwow in Jackson Hole last week since he is under the gun to conjure up another rescue plan to ward off the next spike in the unending saga of the sovereign debt crisis. But he obviously was tapped into Mr. Bernanke's address to the global economic chieftains.
As has previously been reported, Bernanke tried to make the case for another round of monetary easing in his speech last Friday at the Jackson Hole summit.
The Fed head honcho reportedly said that "the costs of nontraditional policies, when considered carefully, appear manageable, implying that we should not rule out the further use of such policies if economic conditions warrant."
From the US perspective such measures are designed to stimulate the economy by freeing lenders of debt. In theory, banks will then have more room on their balance sheets to make new loans to businesses and consumers alike. But what appears to be happening (if the first two rounds of quantitative easing are an indicator) is that the banks horded the money to improve their capital reserves.
Since the Fed was busy buying bonds, investors were forced back into the stock market. And this is a partial explanation for why the markets have regained ground lost during the economic crisis.
Now comes Signor Draghi offering a similar plan to EU banks that have been grappling with the sovereign debt problem. These banks are in jeopardy because the faltering euro zone nations of Portugal, Ireland, Greece and Spain (as well as good ole Italia) have repeatedly been unable to meet their financial obligations. And the EU banks have been left holding the debt bag.
So, if Mr. Draghi makes like Bernanke and starts buying some of that paper, the EU banks may have more time and wiggle room to get through the next sovereign flare up. At the end of the day, it is arguable if the efforts of the Fed or the ECB are only stalling the inevitable. And some observers argue that attempts by the US central bank to pump money into the financial system are only hindering a much overdue economic recovery.
Meanwhile, the presidential election looms large and this may turn out to be a "one term proposition" for President Obama. And Mr. Bernanke's days as fed head may be numbered as well.  Only time will tell where that leaves Signor Draghi but his days may also be running short.
Want a daily digest of articles like this one, plus the latest compliance jobs at top-tier organizations? Join 50,000 other compliance, risk governance, and regulatory professionals and subscribe to our free afternoon newsletter. Where do you find news, style, and career all in one place? The Executive Gateway, our new lifestyle magazine.
Kyle Colona is a New York-based freelance writer and a Feature Writer for CompliancEX and the Wall Street Job Report. He has an extensive background in legal and regulatory affairs in the financial services sector and his work has appeared in a variety of print and on-line publications. You can find him on linkedin.